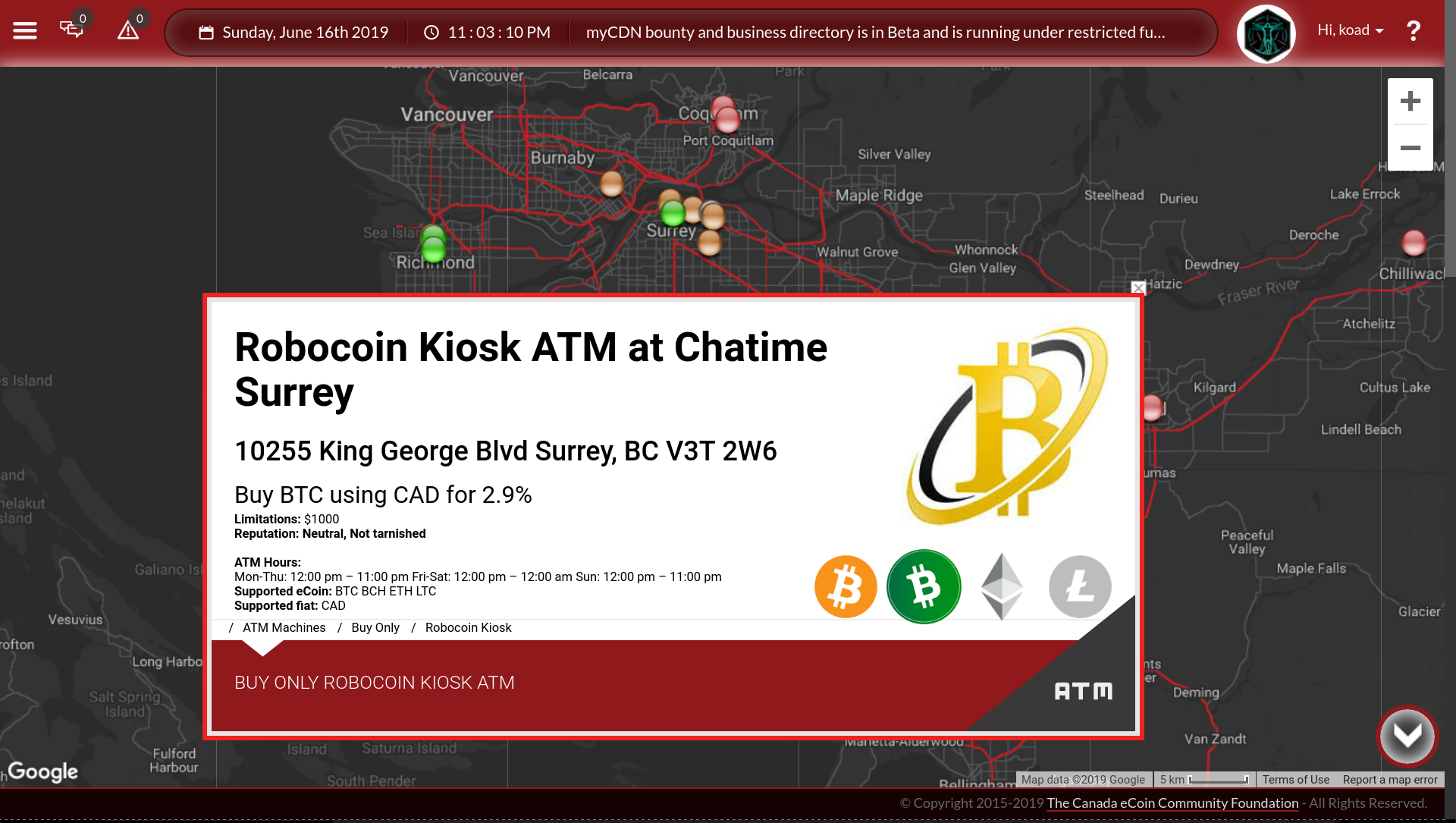 I would like to offer a sneak peek of our Canada eCoin Community Business and Bounty Directory. Canadians can find local places to buy/sell/spend/earn crypto currencies as well as earn some eCoins by completing bounties and/or submitting resturants/stores that accept crypto or by enhancing our dataset by uploading pictures and reviews.
This webapp is currently pre-beta and has only yet been populated with a small selection of ATM machines across Canada. We are looking for testers to try it out give feedback and suggestions on the front end as well as a couple node/meteor devs that might want to join in and help us continue to develop it out.
In a nutshell, the directory is not only a place to search through public data (like ATM machines, exchanges, events, merchants and such), but will also be a hub for digital introductions where the participants as individuals can come together to create their own adhoc (personal and private) networks of trusted peers; based on their own connections/resources.
This directory is a single example instance/component to a larger (self-hosted/self-centralized) methodology where peers buy/sell/ask/bid on any asset, product and service available from within their own trusted network of peers.
The longterm goal here is to create a downloadable dapp where any person can seed any number of their own digital groups or communities, public or private. Members of these decentralized communities can join, publish bounties and business listings to the public directory; then, during their interaction with respondants (if they have been suitabily introduced to one another), can swap keys and carry on doing business outside of the central directories and inside of any anhoc p2p/chatter/chain that best fits their needs.
Remember, it is impossible to delete cloud data with any kind of confidence, and your host may already be compromised. Taking on a self-hosted/self-centralized methodology in regards to your personal data and digital interactions is imperative.